Writer's Cafe In Chennai Is A Haven For Book Addicts And Food Lovers Alike
Most book lovers understand the comfort of reading while eating. So having a restaurant within a bookstore is heaven for anyone who enjoys the company of a book over the company of another person. The new restaurant on Peter's Road is exactly what everyone has been looking for. Writer's Cafe is the latest hotspot in the city of Chennai and we're not even kidding when we say "hotspot" because walking into the restaurant on a lazy Thursday afternoon, every single table was taken and people were excited and happy to be there.
But the bookstore element isn't the only thing that is important about the restaurant. Opened a few months ago, Writer's Cafe has become known for an inspiring initiative. They employ burn attack survivors in the kitchen, who have been trained in the art of cooking and serving and just about everything else you can think of. Most often, women who have survived burn attacks don't get jobs for a number of reasons, but Writer's Cafe gives them a chance to learn something new and have a job that nobody else would give them. They even allow guests to walk through the kitchen on a tour and see their facilities, so when you swing by, ask for a tour!
The restaurant is opening for breakfast and then all the way till about 10:30 – 11pm depending on how crowded it gets. They have an all-day breakfast menu which is filled to the brim with all your regulars and delicious food choices. As you walk into the restaurant, on the right side, they have a bakery section that has cakes and other desserts, as well as snacky things like puffs and other short eats. Plus, they take orders for birthday cakes depending on what they already have on their menu. They also have a juice menu which includes fresh fruit juices as well as cold-pressed juices that are healthy and refreshing.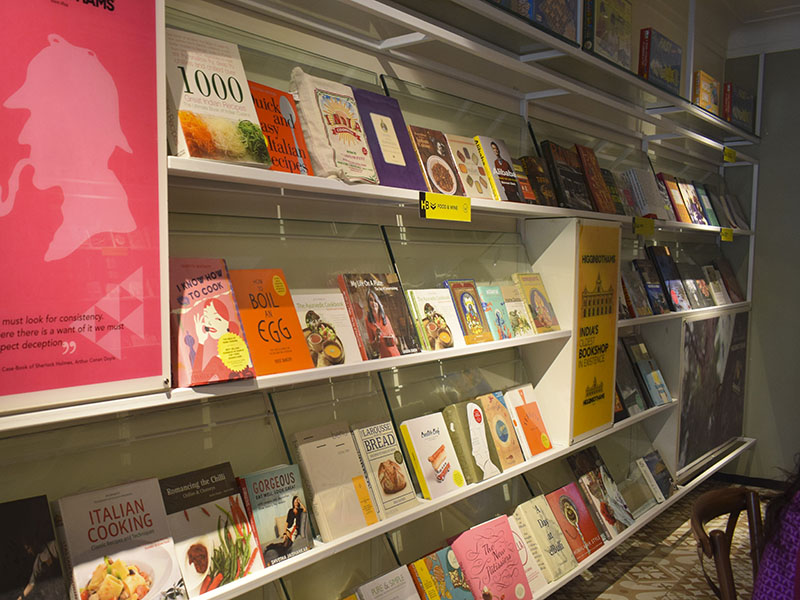 Higginbothams is the most famous bookstore in all of South India and they've been around since 1884, providing Chennai readers a place to call home. To most, the famous Higginbothams was the store at the station, where you could find the perfect book just before you boarded your train to other parts of the country. And Writer's Cafe is made up of two floors, with the top floor being exclusively a bookstore. You can't take your food upstairs, but you can pick and choose your books and sit down for a bit to browse through them and then return downstairs to get your meal.
The menu is a mixture of popular continental food as Swiss elements. Their most popular item on the menu is Flammkuchen which is the Swiss version of a pizza. Instead of being round like the traditional pizza, it is baked in a pan to give it a rectangular shape. During our visit, we got to try a few things and walk through the bookstore to get a feel of what it's like to be in a bookstore in a restaurant.
On our table
Of their cold pressed juices, we had the Zinga which is made up of Apple, mint and ginger. The combination is not only perfectly blended, but also refreshing. Each sip gives you the kick you need for the rest of the day.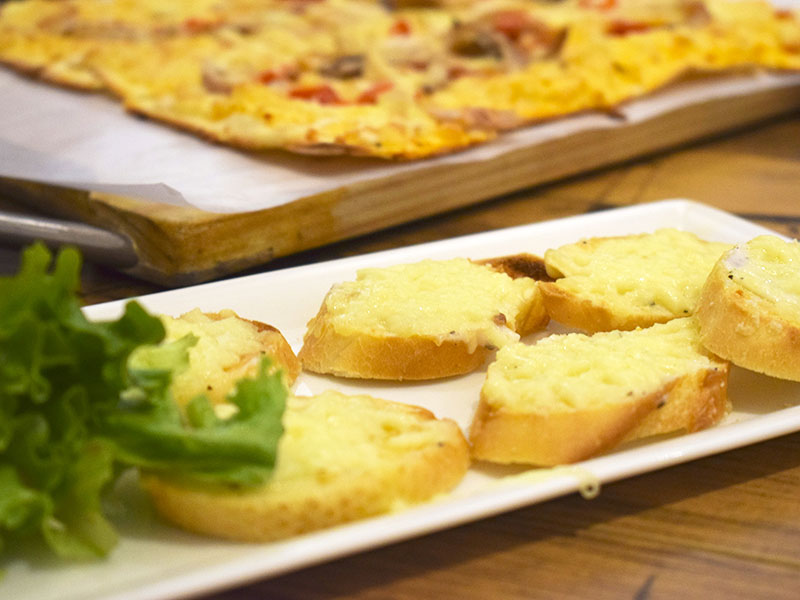 We also had the Herbed Garlic Cheese Toast which had small slices of bread covered in melted cheese that was filled with herbs and garlic. The combination is one that melts on your tongue and hits the spot.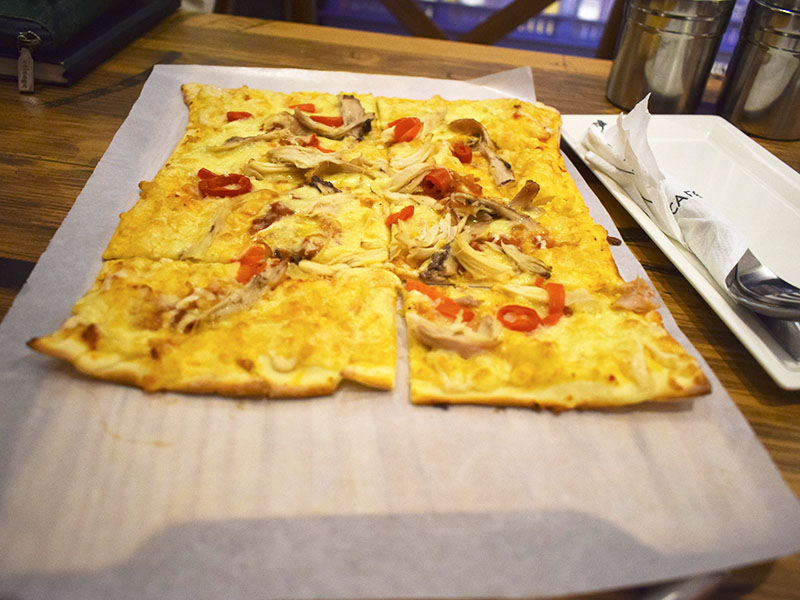 Of course we had to try the Flammkuchen, of which we had the Roasted Chicken with Pickled Chillies. Yes, the sound of anything pickled on a pizza might sound strange to you, but take a bite of this and you will change your mind.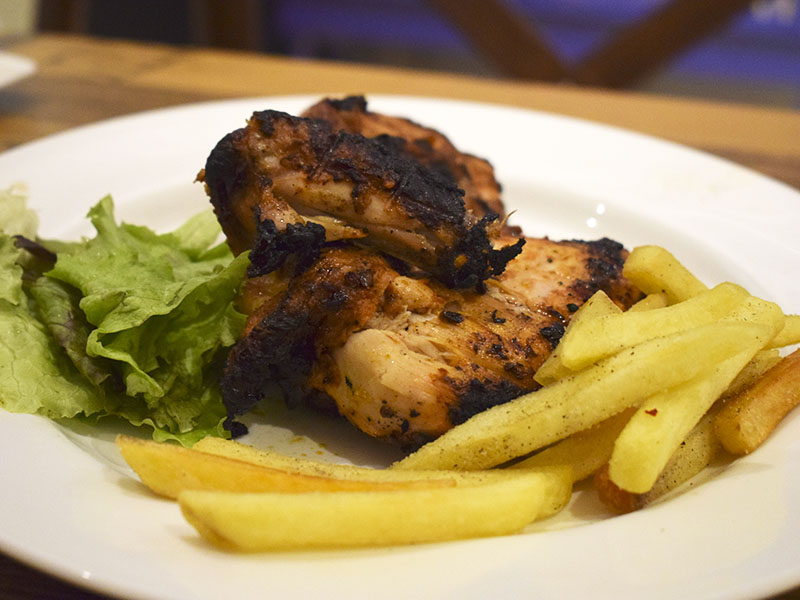 Also served was the Grilled Spring Chicken which you might think was a tandoori creation, but the sauce and seasoning used was something else entirely. The chicken was cooked so beautifully that combined with the sauce, it was the perfect end to the meal.
The Writer's Cafe is located at 98, Peter's Road, Behind Philip's Service Centre, Gopalapuram.