Here's Why The Numbers 245 are So Important At California Pizza Kitchen 
A couple of days ago, one of our favourite destinations for gourmet pizzas in the city, California Pizza Kitchen announced a new deal on their pizzas; pizzas starting at 245++. Yes, that's right; they've made their pizzas that much more affordable, so you and I can look at it for both a lunch and dinner option every day!
But, do these new prices compromise on taste, or quality of ingredients? We paid a visit to the BKC outlet of California Pizza Kitchen and proceeded to taste every pizza that is included in the 245++ menu to find out. Here's what we thought:
Roma Basilico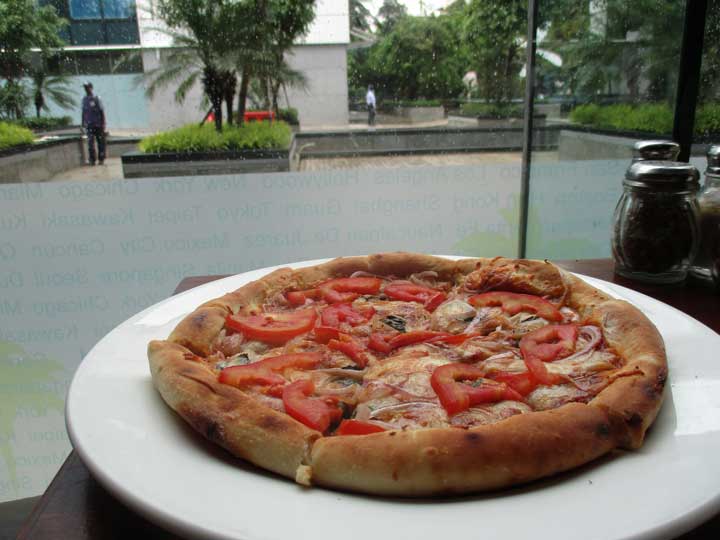 For the traditional pizza lovers, this would be the perfect choice. A medium crust was topped with simple toppings; basil, red onions and tomatoes, which allowed the homemade pizza sauce that graced the crust to shine through.
Italian Delight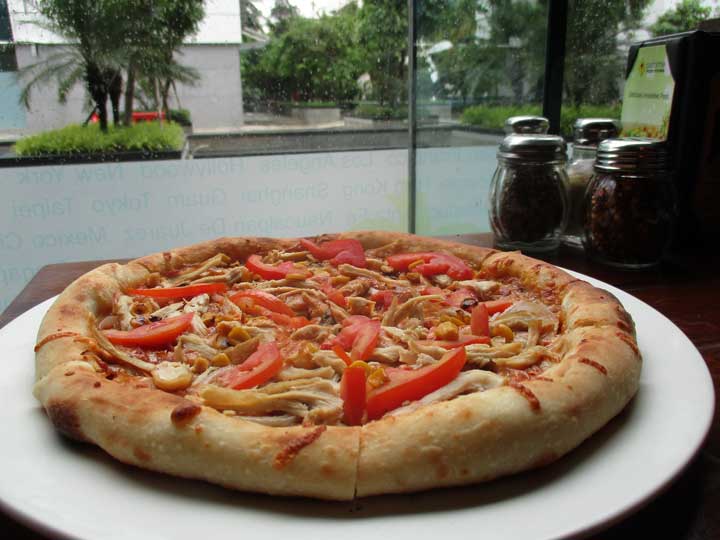 Looking for a pizza that remains traditional, but has a dash of excitement? Opt for the Italian Delight pizza, which has similar flavours to the Roma Basilico, but also carries a generous helping of roasted corn for an extra crunch.
Fiamma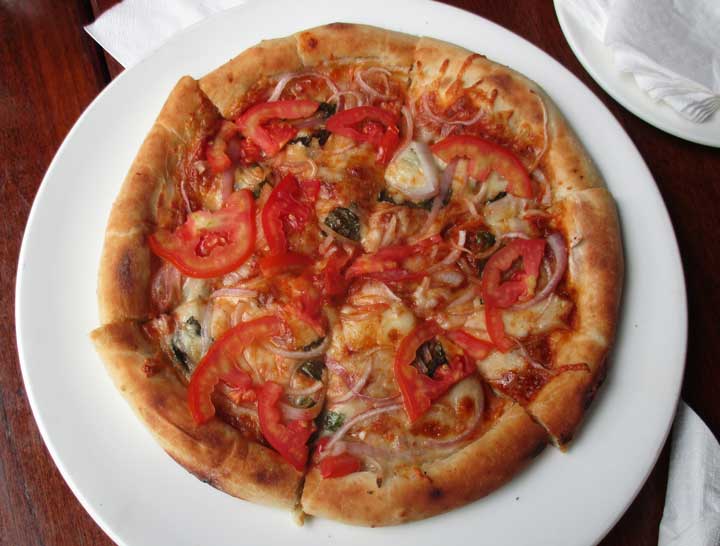 The Fiamma was a more exciting foray into unfamiliar pizza territory. This one was on the spicier side, with oodles of mozzarella cheese and topped with roasted curry leaves that gave it a unique touch. It was also thin crust, which I have a special weakness for, and which may have made me lean more heavily towards it.
Garden Veg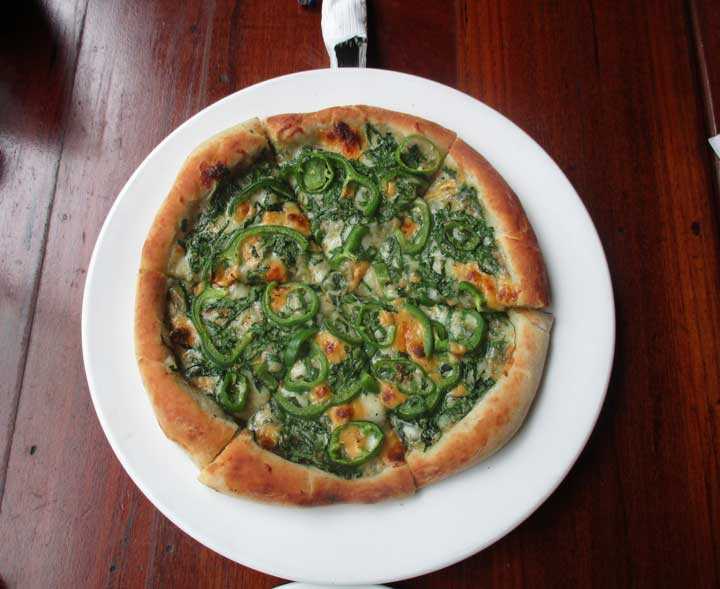 For the vegetarian who is especially enthusiastic about green veggies, this is the ultimate pizza. Spinach shreds were laid down on a bed of cheese, topped with green peppers that were flavoured with green chili sauce. If a pizza had to be the mascot of the green movement in food, this would be among the top choices.
Roasted Mushroom & Pepper
Those that liberally douse their food in chili flakes and always go for the extra spicy option will love this pizza. The supremely hot baja sauce graced a medium crust pizza, which was balanced with mozzarella cheese, and a healthy helping of roasted mushrooms.
Florentine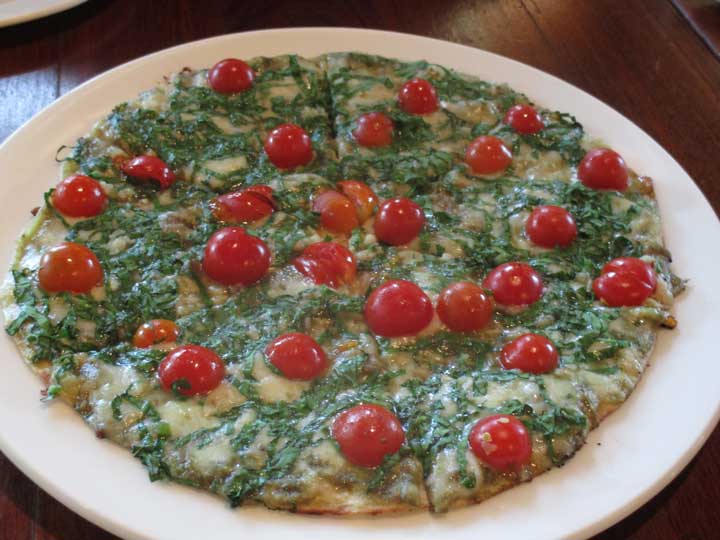 A popular saying goes that one should leave the best for the last. That's why I choose to tell you about our tryst with the Florentine pizza last, even though it was the first we sampled. A thin crust (yes, I do love my thin crusts) was topped with mushroom pesto and a layer of mozzarella cheese. A beautiful bed of spinach followed that, in which fat, juicy cherry tomatoes nestled. Readers, we have a winner.
However, as I mentioned, the fact that the Florentine was a thin crust and also the fact that I have a weakness for spinach (yes, I'm serious) may have made me bias. Truthfully, the range of pizzas seem to have been selected so that they give a choice for everyone's palettes. The chef even stopped by our table and told us that we have an option for calling for more baja sauce, or to ask for chicken to be added to any of our pizzas. In short, it's the answer to pizza lovers' dreams, no matter what their taste preferences at an affordable price.
And, what's the answer to the question I posed at the beginning? Was the taste or quality compromised? No. A whole hearted no. California Pizza Kitchen retains the quality it is loved for, at more accessible prices. We can almost hear the forces behind this new development smugly saying "you're welcome."
The Cherry (Or The Handshake) As A Topping
But, wait, there's more! Along with the 245++ development, California Pizza Kitchen is also introducing an element of mystery, and therefore, fun. There's a special, secret, 245 handshake to be discovered. Learn the handshake, and do it with your server while placing your order. Then, your server will reveal a surprise. We mugged up the handshake and availed of our surprise; believer us, you should too. Because we love you readers so much, we're divulging where you can learn the handshake. Head to this page.
So to sum up, California Pizza Kitchen should be on your weekend must visit list. Learn the handshake, preform it, and then feast your way through the great pizzas.
California Pizza Kitchen can be found at Malad, Lower Parel and the Bandra Kurla Complex.
[schema type="organization" orgtype="Organization" url="https://www.cpk.com/" name="California Pizza Kitchen" description="California Pizza Kitchen is one of the gourmet pizza lover's favorite destinations! " street="1st Floor, Skyzone, High Street Phoenix, Senapati Bapat Marg, Lower Parel" city="Mumbai" phone="022 33956195″ ]
[schema type="organization" orgtype="Organization" url="https://www.cpk.com/" name="California Pizza Kitchen" description="California Pizza Kitchen is one of the gourmet pizza lover's favorite destinations! " street="3 North Avenue, Maker Maxity, Kalanagar, Bandra Kurla Complex, Bandra East, " pobox="0″ city="Mumbai" postalcode="0″ phone="022 33956195″ ]
[schema type="organization" orgtype="Organization" url="https://www.cpk.com/" name="California Pizza Kitchen" description="California Pizza Kitchen is one of the gourmet pizza lover's favorite destinations! " street="3rd Floor, Infiniti Mall, Link Road, Malad West, Mumbai" pobox="0″ city="Mumbai" postalcode="0″ phone="022 33956195″ ]