Moplah Festival hits town at Ente Keralam
Title: Nobody makes it like Ummi Abdullah
We've marvelled at the beauty of their land just as much as we've made fun of their accents. We've called them "Mallus," "simbly" because we can. Well, you can laugh till you cry but you simply cannot ignore a Malayalee.
When we first heard about the Mopla festival at Ente Keralam, one of the writers in the office sort of went into a hyper fit about Malabar biryani. She needed to have it "immediately" and we had to rush over to Ente Keralam because of the said biryani emergency. Long story short, we are super glad that we did!
Once we got there, we were quite excited by the theme of the place. All the waiters were clad in traditional Moplah attire and soothing Malayalee music played in the background. We had a lovely chat with Mrs. Ummi Abdullah whose timeless recipes have been the backbone of the festival for the past five years.
Mrs. Ummi Abdullah watched her grandmother cooking, as she was growing up. She was very observant and knew the exact quantity of a particular ingredient to be added to her dishes, without actually measuring them. It was only in the later years when her husband urged her to write her own cookbook, that she went back to measuring the portions. Since then she has written four books and the fifth one is in the printing stage. She was a true inspiration to talk to and a brilliant example for someone for whom age is just a number. As she was talking to us, one by one, the dishes started to arrive. Being the perfectionist that she is, she immediately gave the chef inputs on each of the dishes. Having lived in Chennai for over 25 years and then moved to Kerala, she has a huge network of friends who're forever fond of her food. The festival is an excuse to celebrate the fantastic food, made from the traditional kitchens of Kerala.
A Fresh Welcome
The first things to arrive on our table were the Nannari Sherbet and Muthari Sherbet. The nannari sherbet was a breath of fresh air as it was a particularly hot evening. The muthari sherbet was rich and palatable.
Godhambu Kanji
Kerala's equivalent of soup is quite the delicacy. It tasted very different from anything that we'd tried before.
Mutton Liver Ulathiyathu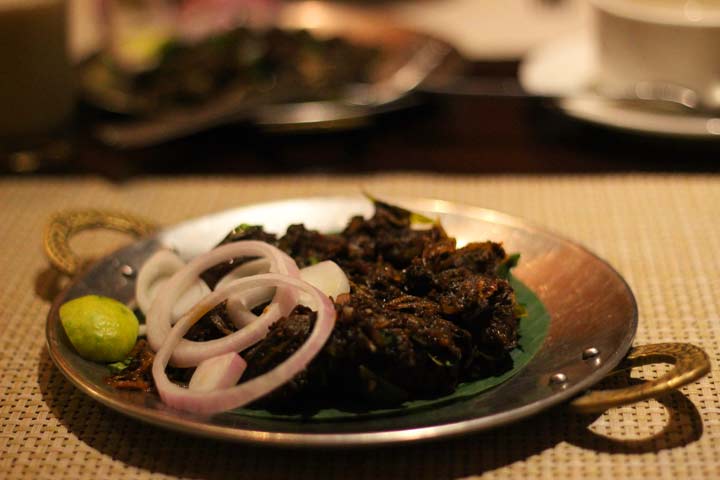 If you're one of those people who love liver, this dish will definitely be a big hit. Made with traditional Kerala spices, this is as authentic as it gets.
Kalamakai Ulathiyathu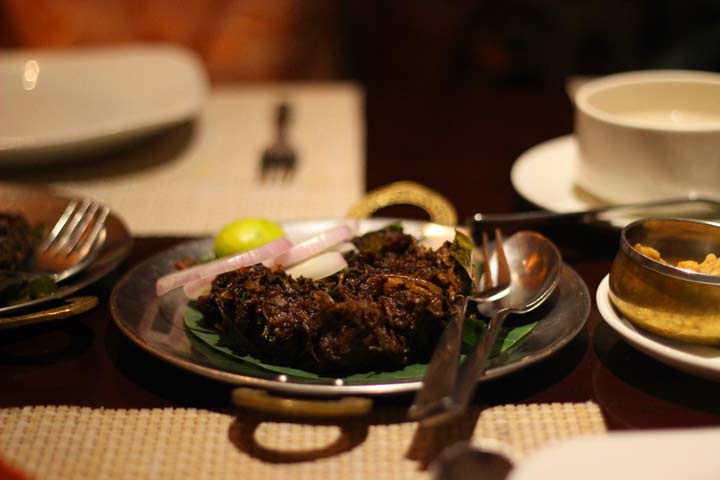 I can write a book about this dish. Mussels are not easily available in this part of the ocean and Malayalees here, long to taste anything that is even remotely close to this. Imagine our thrill when we saw this beautiful platter of freshly fried mussels coming our way. It is true what they say about true love being the emotion you feel when the waiter brings your food. Crisp, tasty and ever so delicious, we just couldn't get enough of it.
Arikhadukka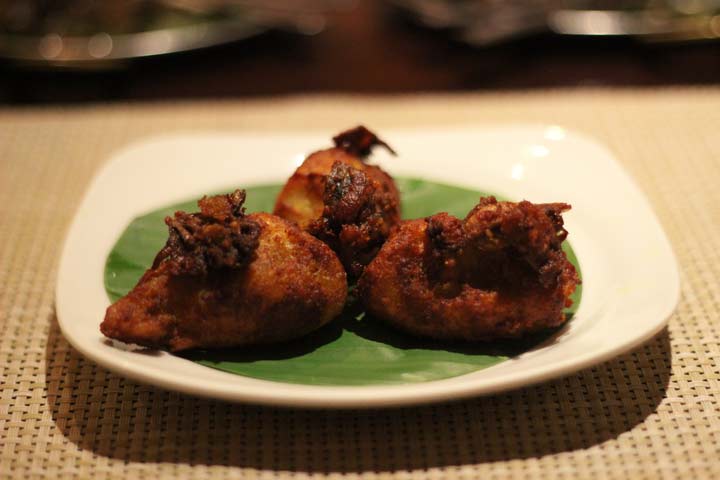 This is a very popular mussel dish (doing a happy dance) that is quite popular among hotels close to the beaches in Kerala. They're like little pockets of rice that hold within them, a beautifully-cooked mussel each. Once you've tasted this you know that heaven, is a place on earth.
Kozhikodan Kozhi Porichathu

A dish that hails from Kozhikode, this is Kerala's take on chicken fry. It's when tasting dishes like these that you know, that no matter how far you travel, you always have dinner at home.
Appam and Mutton Varathu Arachathu
It may seem excessive to rave about appams, but my conscience will not leave me in peace if I don't talk about it. It was so soft and practically melted in the mouth with each bite. The mutton curry struck a chord so perfectly with the appam and the music they made, will ring for a long time in our hearts.
Malabar Biryani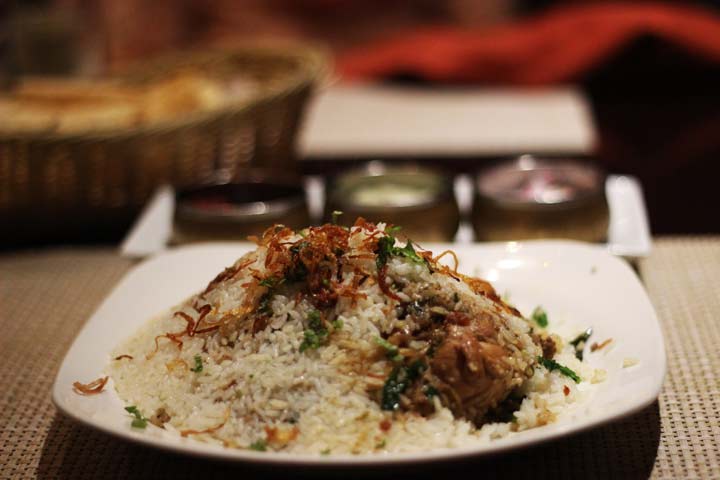 Nothing says celebration like a good biryani served at your table. Malabar biryani stands out specially because of its unique taste. Ghee rice on the outside makes you wonder if this is an innocent dish but as you scoop it out of the bowl and you see big chunks of chicken hidden underneath dressed in perfect masala, you know that it is anything but a regular dish. Served with a unique dates pickle, this dish spells awesome with each mouthful that you take.
Fish Curry
Adding some red hot spice to your evening, is this beautiful curry. Be warned; this is quite spicy and if you're up for an adventure, this is exactly what you need.
Pathiri

Three. That's how many varieties of pathiris they have on the menu for this festival. This one's an absolute delight on the palate. Be it podi, ghee or ari pathiri, each one is equally tasty. You can pair this with the fish curry or the mutton curry.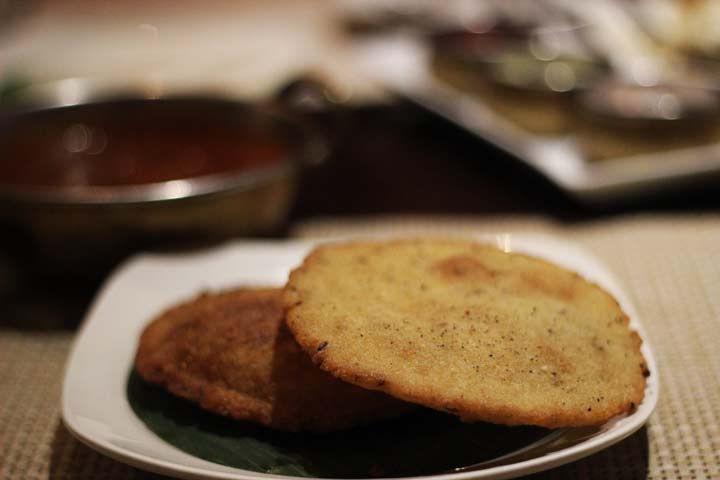 Murunga itta manga curry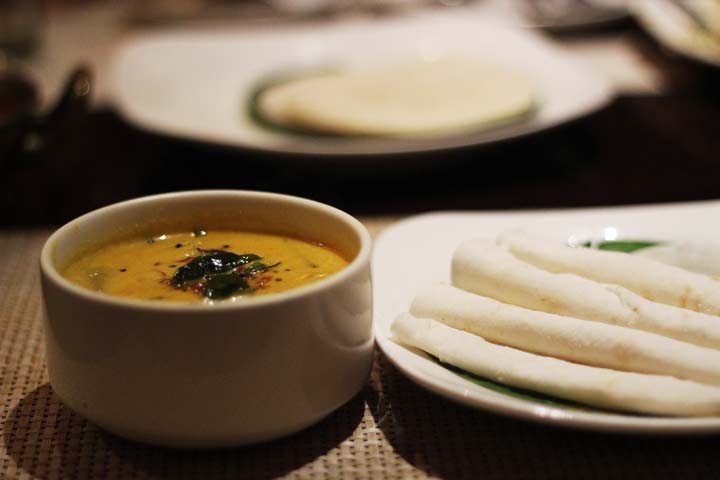 The peak of summer may have passed but our love for mangoes have not waned even a little. This dish made with mango is unique and it goes very well with rice or pathiri.
Mutta Mala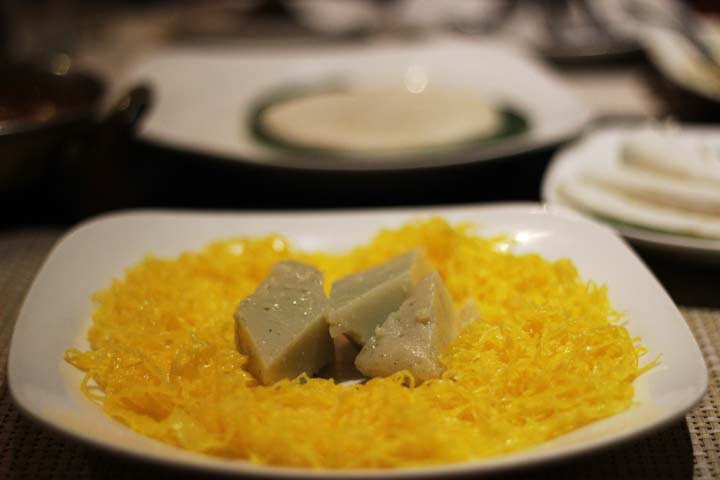 Translated to mean a garland of egg, this is a feast for the eye. It is for the person who absolutely loves egg in any form. Bright yellow strands of the yolk look like a beautifully woven garland. It has a distinctive taste.
Pazham Pori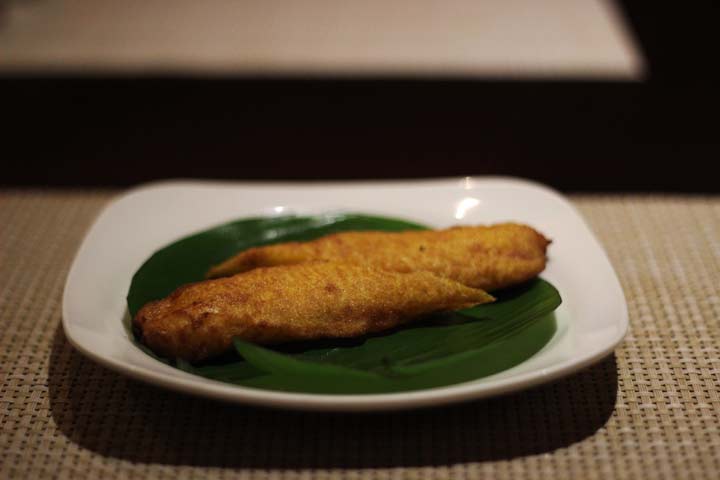 This dish tugged at my heart as it pulled up a little memory from my childhood. Pazhampori was always comfort food. It is the dish that was served fresh off the stove, piping hot and shared with friends on a rainy day. Fried banana may sound odd to the next person but to some of us, it brings back fond memories of mom and her tireless effort to make you whatever you liked to eat.
"Ente Keralam ethra sundaram!"
Ente Keralam's Moplah Food Festival is on from the 1st of June till the 21st of June at its restaurants in Anna Nagar, MRC Nagar and Poes Garden.