Chili Cheese Nuggets Recipe
Very few glutinous pleasures match up to that of snacking on crispy bite-sized chunks of deep-fried cheese, a.k.a. cheese balls or cheese nuggets. The crunchy outside paired with the gooey inside makes for the perfect finger food on many occasions. How about we spice up these mini cheese globules with a dash of chili or the ultimate chili cheese nuggets?
If you're an active part of Team Cheese and Team Chili, then this mildly spiced cheese nugget is going to be your next favourite party snack. And the best part? It is super easy to make and you can even store them and fry up whenever you have a party or Netflix adds a new movie! Follow the recipe below to prepare some delicious chili cheese nuggets at home.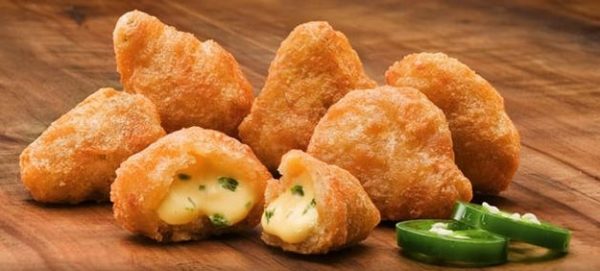 | | |
| --- | --- |
| | |
Remove the seeds from the chillies and finely chop them.

Stir in the chopped chillies with the melted cheese.

Line the bottom and sides of a plastic box with cling film and transfer the liquid cheese mixture into it, smooth the top. Chill it in the refrigerator for 3 hours to form a cheese block.

Now cut the cheese block into cubes of your desired size.

Beat eggs in a bowl along with salt, pepper, and paprika.

Dip cheese cubes in egg mixture and then coat with breadcrumbs. Repeat the process once more and chill in the refrigerator for 30-40 minutes.

Heat sufficient oil over medium-high heat and deep-fry the nuggets.

Transfer to a paper towel to absorb excess oil and serve hot.
You can shallow fry the nuggets and keep them refrigerated to bake or deep fry on a later date.