What's Your Gossip? A Visit To Chennai's New Stylish Bistro
If you've driven down the ECR towards Mahabalipuram in the last few months, you've probably noticed a new restaurant in the process of opening their doors. We know that we've been waiting for a while and now that they've had their soft opening, we had a chance to visit Gossip Fusion Bistro & Dessert Bar for an experience unlike any other.
It is a bistro in every sense of the word, from the food to the décor to even the uniforms of the waiters. Started by Ramya Venkataraman and Hari Prasad Ganesan, Gossip Bistro is a 'fusion bistro and dessert bar'. But don't let that name fool you, they have so much more going for them than just being a bistro and a dessert spot. When you walk in, you are welcomed by blue walls and mustard yellow couches, wall art that has been sourced from all over the place. And every piece of décor has been thought through so carefully, you will want to take a moment to just admire everything before you sit down to eat. You can see the amount of effort that has gone into the restaurant and if you have never been one for details, we recommend you stop and do just that here.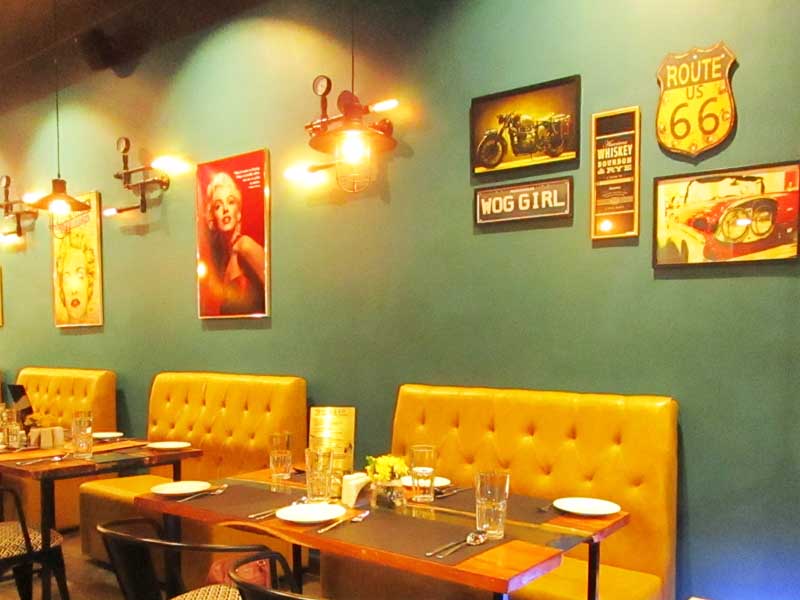 Now, before you get carried away with what you think 'fusion cuisine' means, let us just tell you that it's not the usual fare. You've got your Mediterranean food, your Indian food, your Chinese food, your Continental food, but none of them look the way you usually see them. It's a proper fusion of foods, introducing you to different cuisines with each bite. Ramya worked closely with Chef Anand to create the menu, giving each dish a different twist. When we sat down to eat, we had no idea what was coming, but we can tell you right now that we were absolutely stunned.
To Start With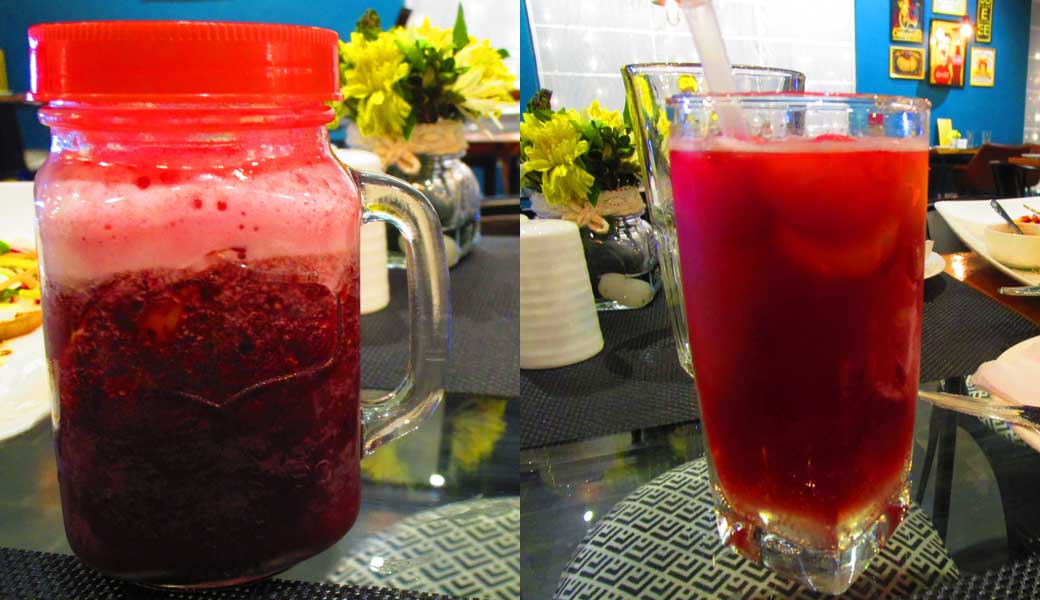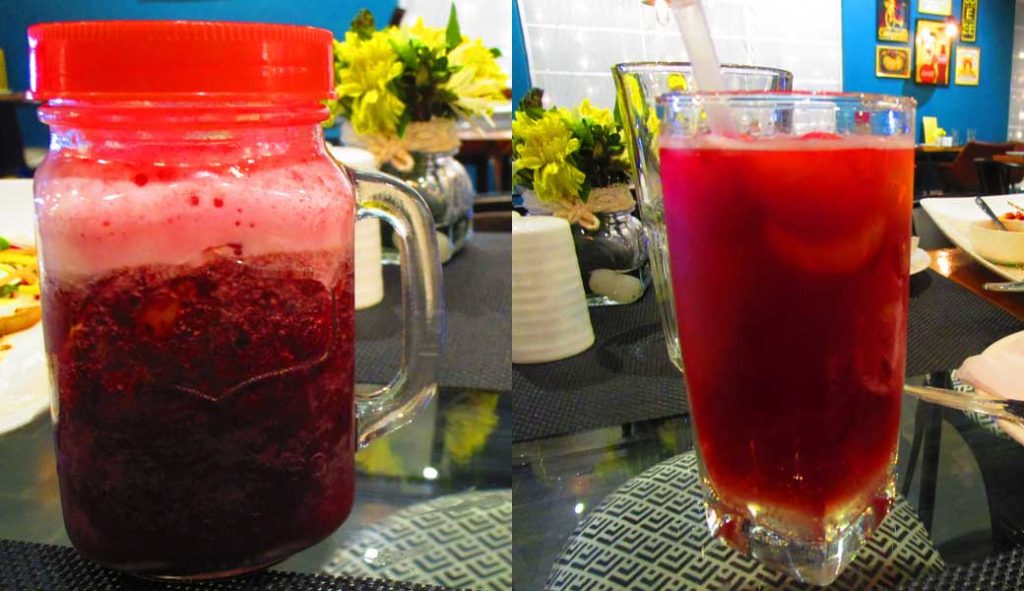 The weather in Chennai gets better towards the evening, but it's still warm enough that you can drink cold drinks by the gallon and that's exactly what we did. We had a Dark Vader (which is mostly made using blueberries) and a Melon Ball Punch to cool down after the drive, and also to just sit back and take a look at the bistro in it's entirety.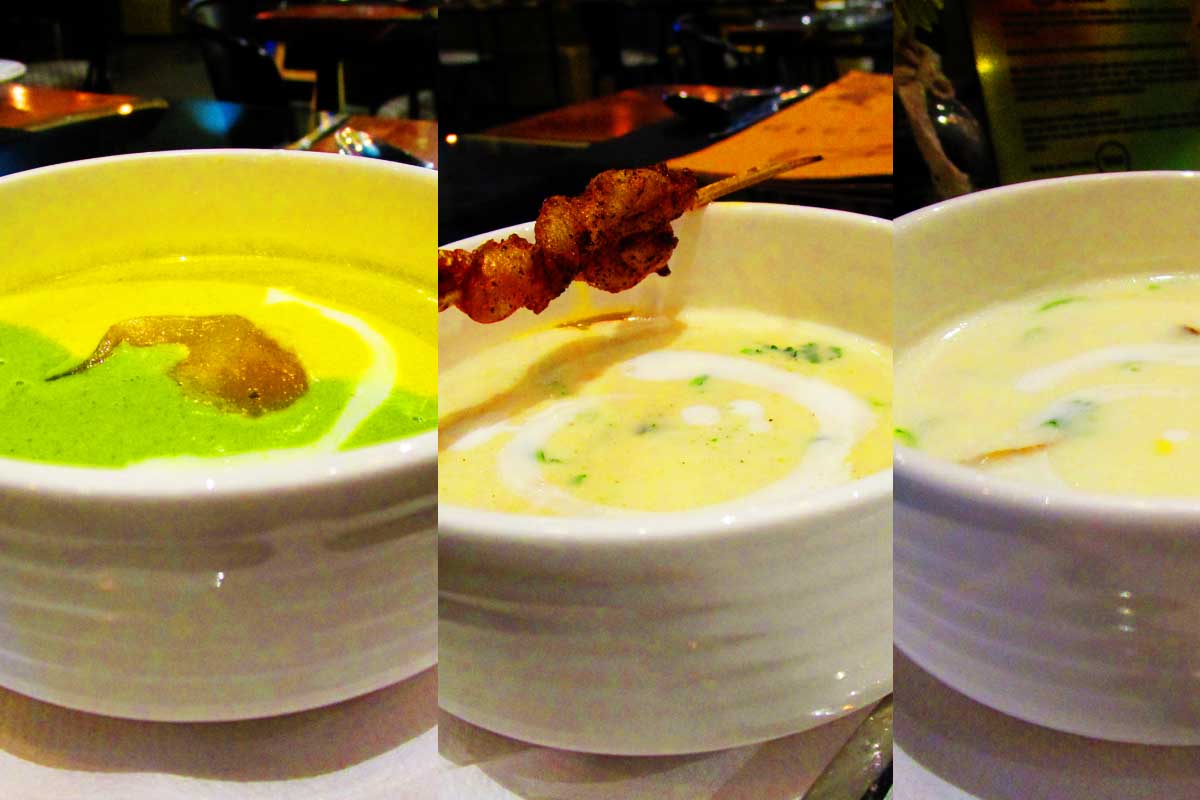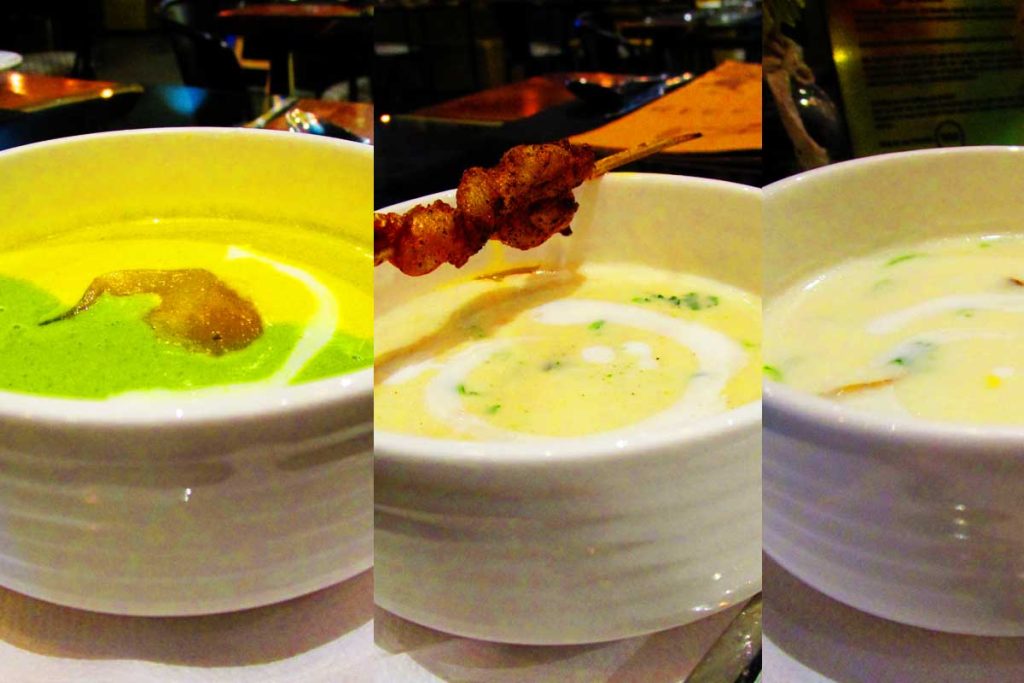 Brace yourself for the soups, because they are unlike anything you've ever eaten. We had the Spiced Pumpkin & Broccoli, Prawn & Melon and Hot & Sour Chicken. The soups were thick, instead of being watery and while the hot & sour is usually brown or red, their version was a thick white soup. The taste was retained, but the soup was presented differently. These were combinations that we never even considered or thought of before, but now it's all we can think about.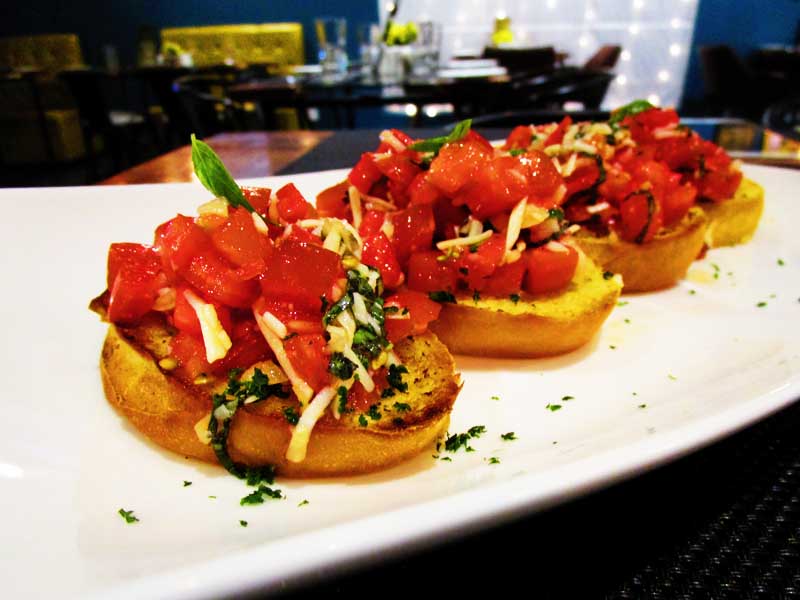 You can never go wrong with Bruschetta. And what makes it even better is that the bread they use is made in their kitchen, so it's soft and fluffy, but thick enough to make the bruschetta delicious.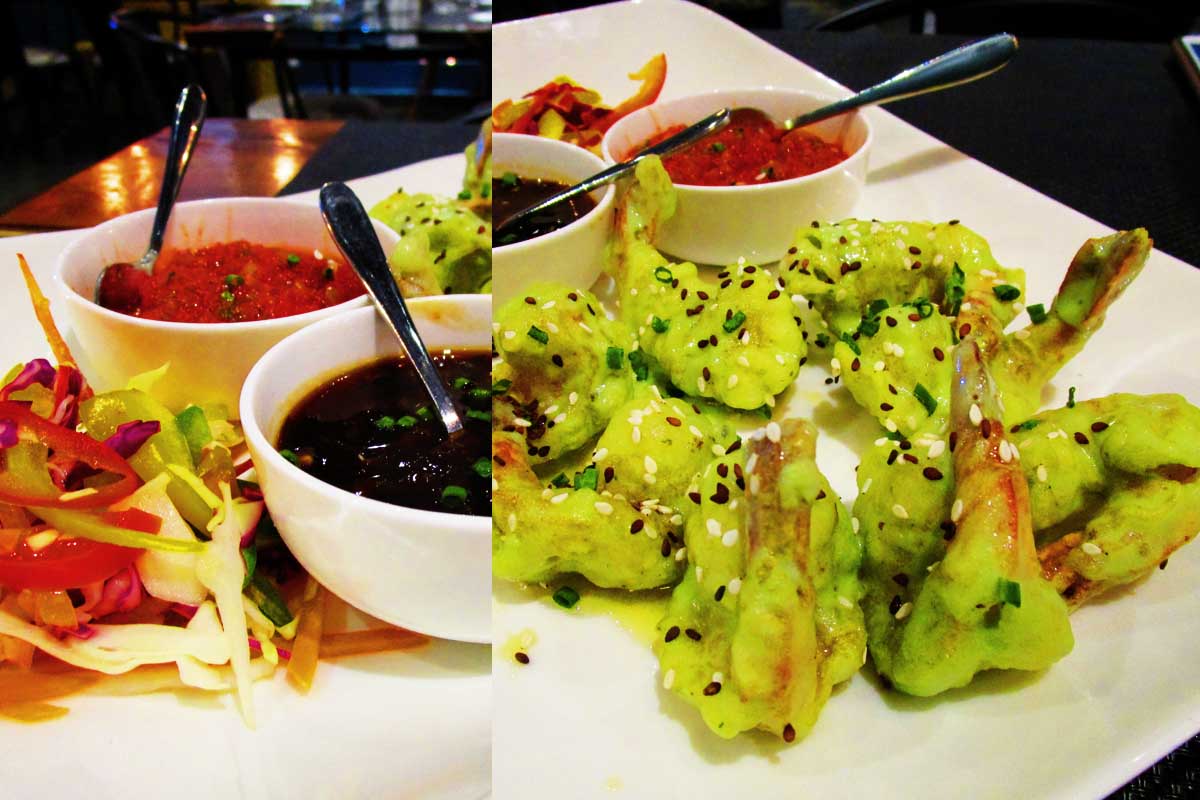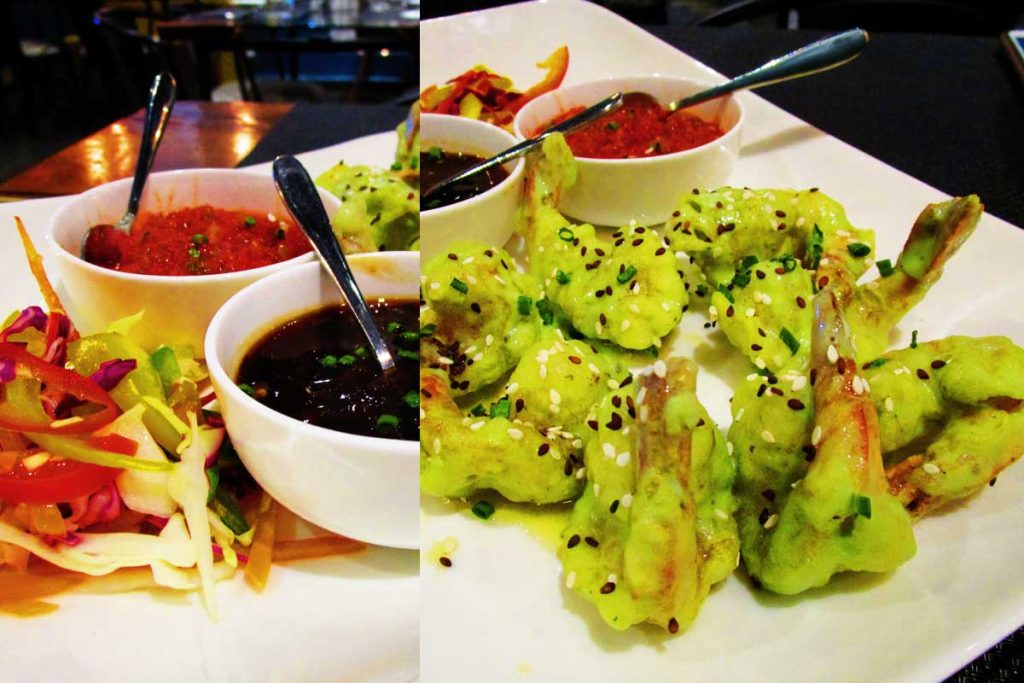 Everyone has had a prawn tempura at some point of time in their lives, but have you ever had a Prawn Tempura with Wasabi? We didn't think so. The prawn is deep fried and then coated in the wasabi, giving it the kick you didn't know you were looking for.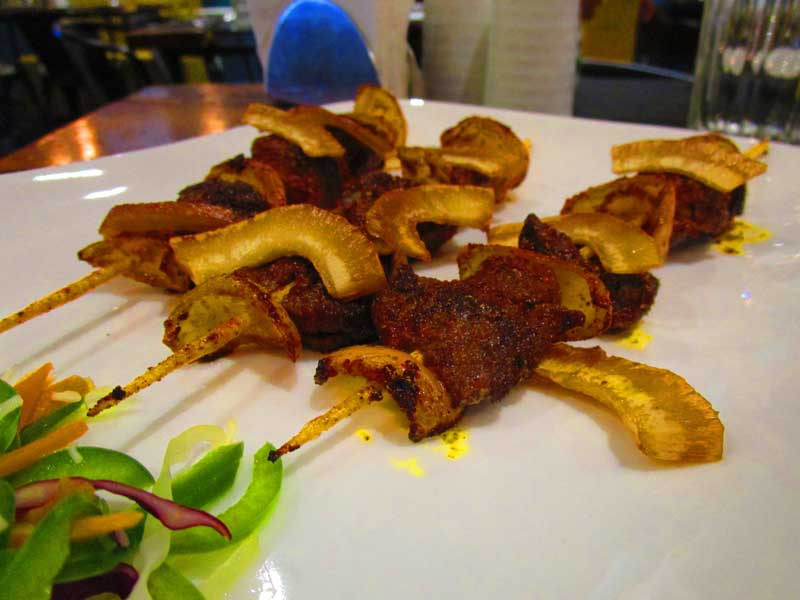 The Braised Peppery Beef & Onion Kebabs were absolutely to die for. Thanks to addition of coconut into the beef, you feel like you're eating the beef fry that Malayalees everywhere would be proud of.
Mains & more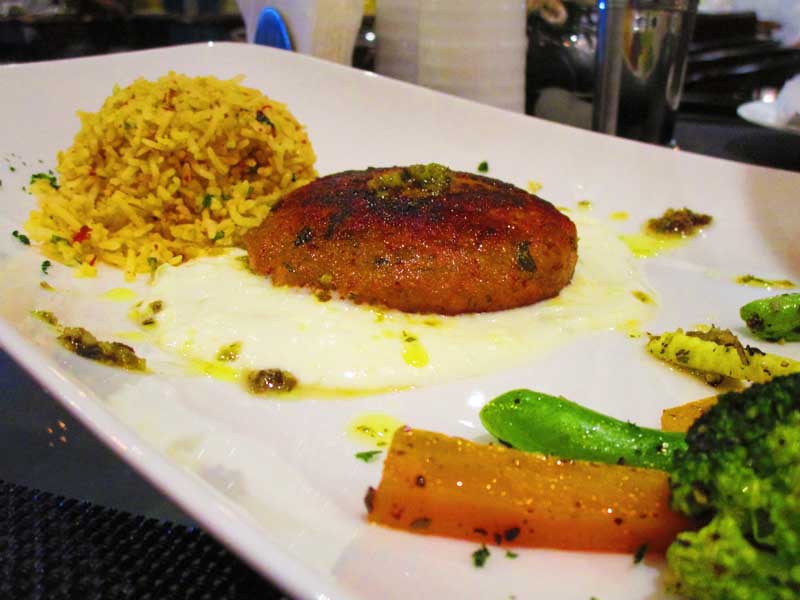 For those who love their seafood, but have never tasted the crab cakes, this one is for you. The Crab Meat Cake is served with a mango chutney yoghurt which balances the spicy and the sweet just right. And add in some jalapeno and you have the makings of a delicious dish. And for those wondering, it's served with sauteed vegetables and peanut rice.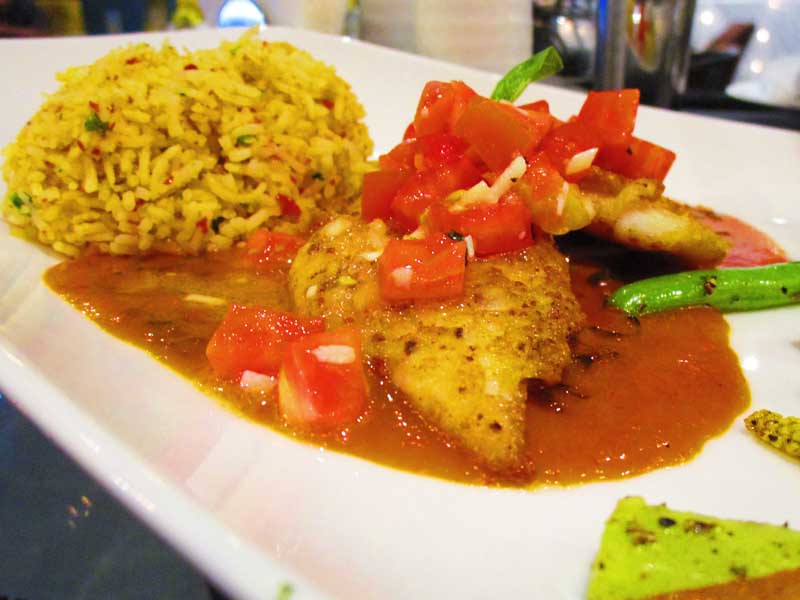 Seafood was the main focus of our meal, as you can see, so it only made sense that we got the Grilled Fillet of Sole as well. Even if you've never been a fan of Sole before, you might just become a fan thanks to this dish.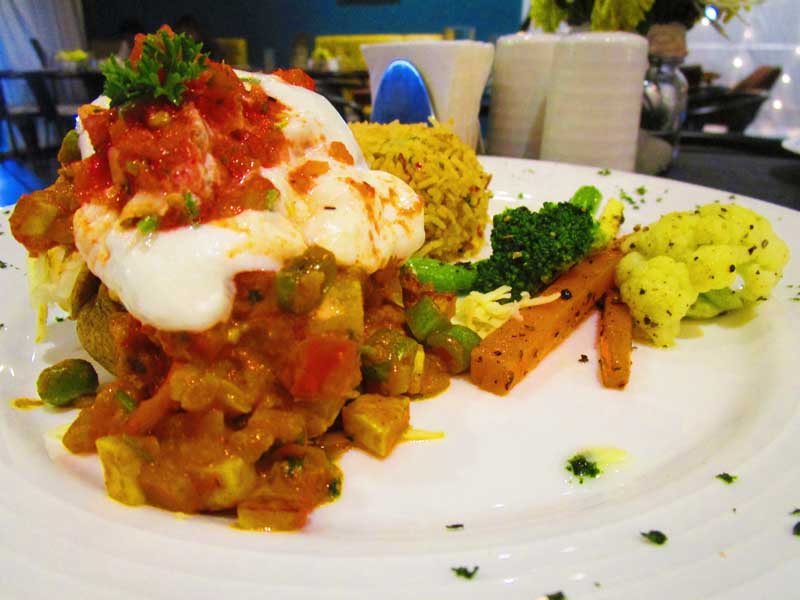 And then there was the Indian Spud, which is a baked potato stuffed with paneer, vegetables, tomato, sour cream and cheese. It's a desi take on a popular Australian dish and it is a fantastic combination of ingredients.
The Dessert Bar
Before we get to what we had, they have an display box as you enter, that has the most delectable desserts whispering sweet nothings and begging you to take them home. Like the Mango Tart (made with Balsamic Vinegar) and Chocolate Cake (made with olive oil).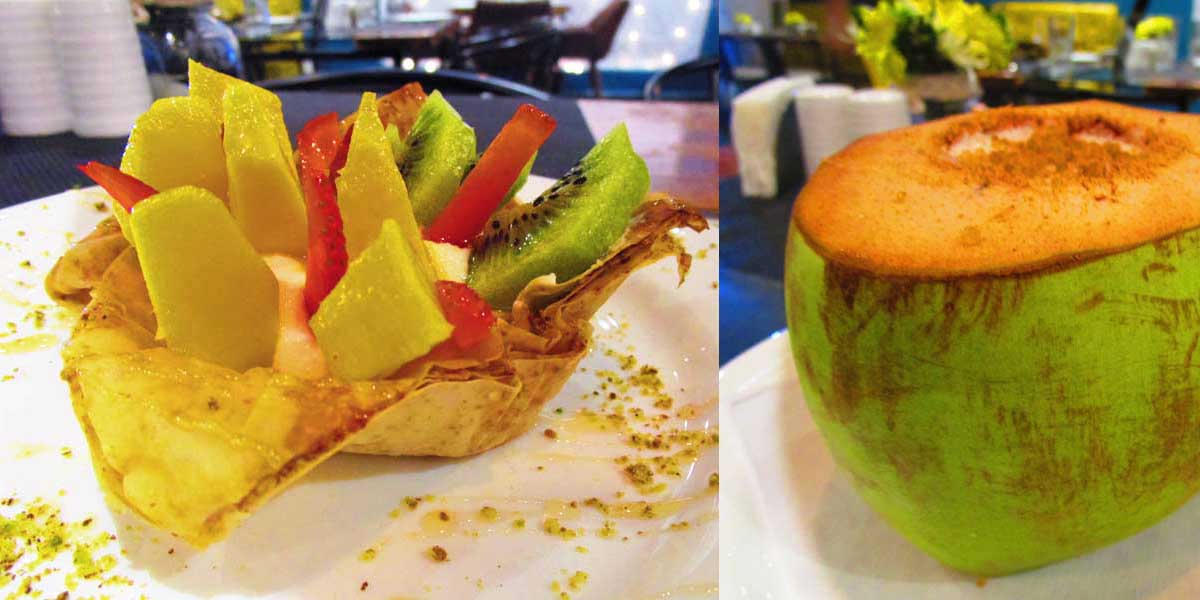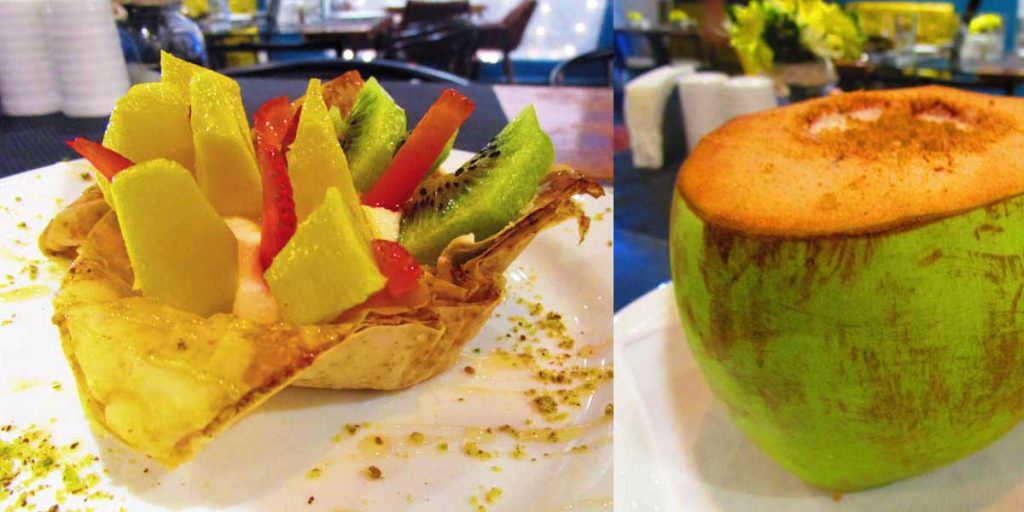 This may not look like your traditional Baklava, but the Gossip Bistro version might just be our favourite. The Fresh Fruit & Nut Baklava Tart is a more open version and you are definitely recommended to get messy while you eat. And yes, that is most definitely how they serve their Tender Coconut Mousse. And if you think that it's just a few spoonfulls of mousse waiting for you, you're greatly mistaken. Prepare yourself for an amazing treat.