Get High At The Push Of a Button With Bartesian
Yet another gizmo is set to make our lives easier, and this time it's the cocktail fanatics that rejoice. The latest robot in the hood is called Bartesian and it uses little K-Cup-like pods to spew Margaritas, Cosmopolitans, and Uptown Rocks.
Oh and the spirits? The Bartesian uses 4 liquor glass capsules to give your cocktails the kick. You can fill these capsules with vodka, gin, tequila, and whiskey and then create drinks based on the recipes coupled with the pods.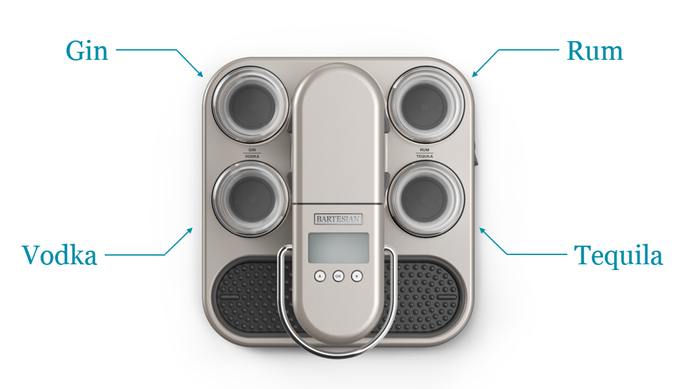 They also brought a mixologist, Dee Brun, on board to build the boozing.
While it will be a hard sell to convince the world they need another pod system, the makers think it will be well worth it if your Margarita tastes better than homemade. Just stock up on the pods well in advance!
The idea behind this boozy wonder
"The initial idea was actually from a friend of ours. Story goes she was at a hotel for business, and wanted a cocktail after work. The hotel had no bar, but had a Keurig in the room. Boom, light bulb," explained Bartesian co-founder Bryan Fedorak, a former bartender and engineer.
"She wasn't interested in pursuing the idea further, so Jason Neevel, co-founder and mechanical engineer, and I kept developing it. We had always liked beer and whiskey, and cocktails were always this special type of drink beyond our reach, really. We are literally liberating cocktails for people."
To make cocktails, the Bartesian needs just two things: basic spirits – vodka, rum, tequila and gin – and a Bartesian capsule that contains the remaining ingredients. You would purchase the spirits and fill the machine's reservoirs so that you'd be able to make a whole bunch of cocktails before having to refill.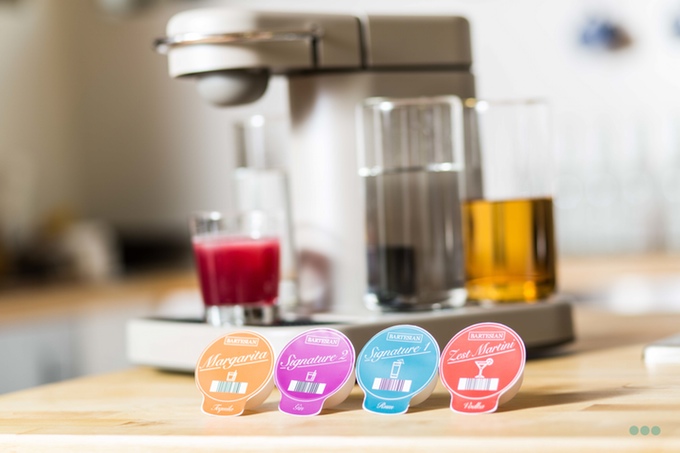 The Premium Pods
The cocktail recipes are limited at launch and will require capsules. The team is working on more drinks. To start with, there will be six variants available: Margarita, Sex on the Beach, Cosmopolitan, Bartesian Breeze, Uptown Rocks and the Zest Martini.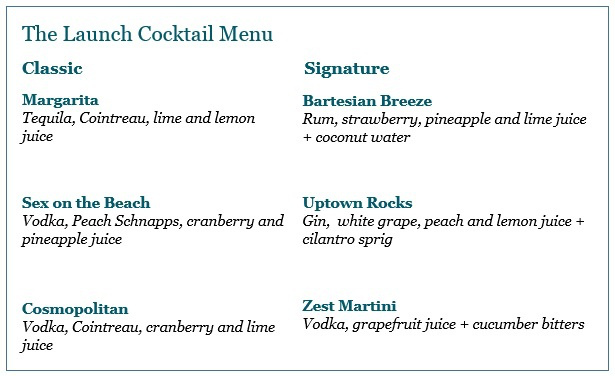 Each Bartesian Capsule is made with real, premium ingredients. Fresh juice concentrates, non-alcoholic liqueurs, and bitters, all in liquid form. There are no artificial powders or high-glucose corn syrup in these capsules. This allows for quality taste and drinkability cocktail after cocktail.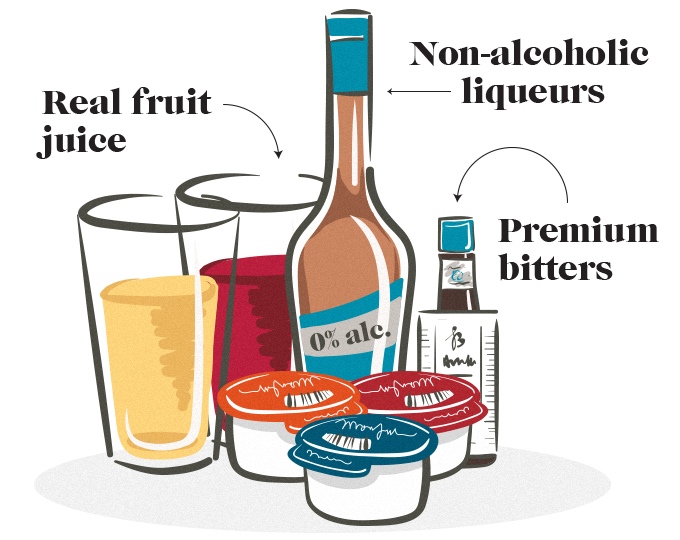 But wait! It get's even better and more automated. The system uses a barcode on the lid of each pod to read the cocktail, and automatically adjusts for each one, so you don't even need to input recipe instructions. There's even provision for those who prefer their drinks "shaken, not stirred." The Bartesian comes with a cocktail shaker, so you can deposit the cocktail into the shaker rather than a glass and shake it all up for a martini, 007-style. Aren't you already in love with this bartender?
With another important environmental aspect, it has an important advantage over a Keurig machine. The capsules can be thrown in with your general household recycling.
Where can you find the Bartesian and its pals?
On the Kickstarter page, the team has posted a list of cocktail capsules that could be made in the future, and Fedorak said that Bartesian is also considering the possibility of capsules that you can fill yourself to experiment with your own spirits and mixers.
The machine is currently being offered as a reward with a minimum early bird Kickstarter pledge of $249 at time of writing, which includes 12 capsules. After the Kickstarter campaign ends, the Bartesian cocktail machine will retail for over $400. You can also add packs of 12 capsules to your reward for $20 per pack. Head on over to the Kickstarter page to check it out.
In the meanwhile, admire the beauty and sheer brilliance of the Bartesian in this video.