Mumbai Sikhs Ask For GST Exemption On Langar Food
According to a report by the Hindustan Times, there is an added cost burden due to the Goods and Services Tax (GST) on the food products for the langar distributed in the Gurudwaras. These langars (community kitchen) serve food free of cost and feed around 300 people each day in Mumbai. The report said that the tax has increased the monthly cost by 10 percent.
Don't Levy Tax On Langar
"We aren't demanding anything, it's just a request that our community has been raising for a while to exempt the good purchased by us from GST," said Kulwant Singh, vice president, Sri Guru Singh Sabha, Mumbai (Dadar Gurudwara) told the Hindustan Times. He also told the publication that while businesses could avail a set-off on GST different products, there aren't any provisions for the community kitchens.
"We have students, cancer patients and people from nearby slum areas who come for langar, which according to us is a service to humanity. Since most of the branded products fall under the 12-18% category, we cannot get food of lower quality and take a risk with the health of devotees," said Hari Om Julka, General Secretary, Panchayati Gurudwara told the Hindustan Times.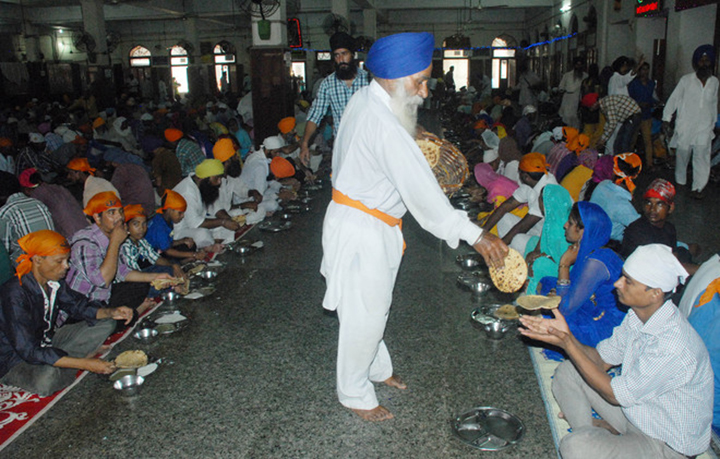 The Shiromani Gurdwara Parbandhak Committee (SGPC) that maintains the Golden Temple had paid Rs.2 crore as GST in seven months. They had asked the Central Government two months back for the same exemption of Sikh shrines from GST which was turned down by Arun Jaitley, the Finance Minister. The publication reports that Jaitley had turned down the request saying that GST wasn't imposed on the food being served in langars.
The report further says that the Lucknow Gurudwara Pabandhak Committee (LGPC) has made a similar demand last week. "On an average, a bigger gurudwara in Mumbai would end up spending around Rs10 lakh on GST. If we are given granted exemption, the same amount could be used for other social causes. Here, we aren't referring to gurudwaras specifically, but it's about religious institutions of other communities too," said Manmohan Singh of Dadar Gurudwara to the Hindustan Times.
Cover Image: Hindustan Times
In-article Image:  Muslim Mirror