Here's What You Should Be Drinking At The Bar Terminal In Mumbai
Up-cycling is all the rage in interior design right now. If the word is completely foreign, allow us to provide you with our own definition – "up-cycling is when unwanted waste materials are re-used to create something beautiful, such as furniture or accessories."
Last week, when we stepped into the newly launched The Bar Terminal at Fort, we realised that up-cycling is now making its way into the restaurant world. Previously known as BottleBar, The Bar Terminal opened its freshly painted doors a few weeks ago with a new look, a new menu and a new vibe – the ultimate up-cycling of a coveted space.
All the furniture in The Bar Terminal supports this theme; while cutlery holders made up of old keyboards, the bar seating area was constructed out of old crating material.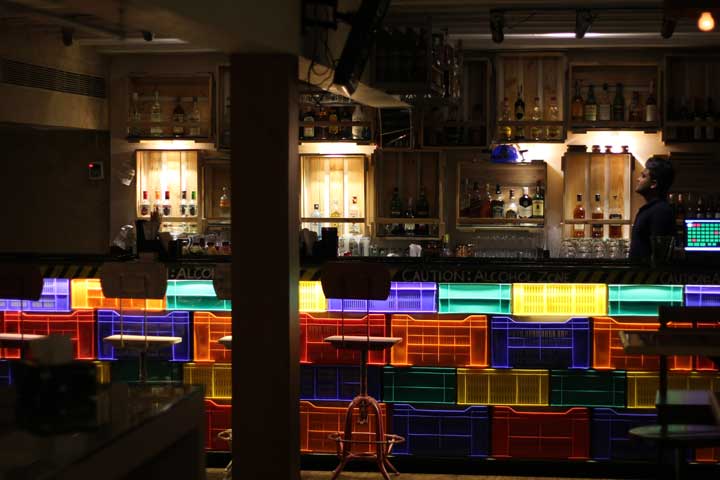 Similarly, the (pure vegetarian menu) menu takes old, classic comfort foods like mac and cheese and chaat and put a unique spin on them to create innovative dishes like Mac & Cheese cupcakes and Ragda Patties shots.
While we were heavily impressed with the decor and the goodies on the menu, we were most excited by the drinks menu, which our server told us had been crafted using a variety of mixology techniques. So, after ordering some grub to fortify our stomachs, we proceeded to order a plethora of drinks that we went completely gaga over. Take a look –
Smoked Berry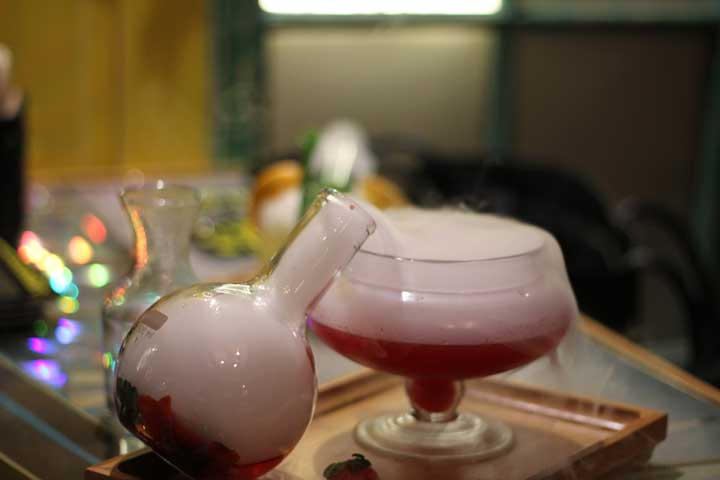 Fresh strawberries are infused into a tequila mix in a wide, wide bowl which is then topped off with heaps of strawberry infused smoke. The technique made for a marvellously exotic sweet cocktail that blew all our palates away.
Caribbean Ride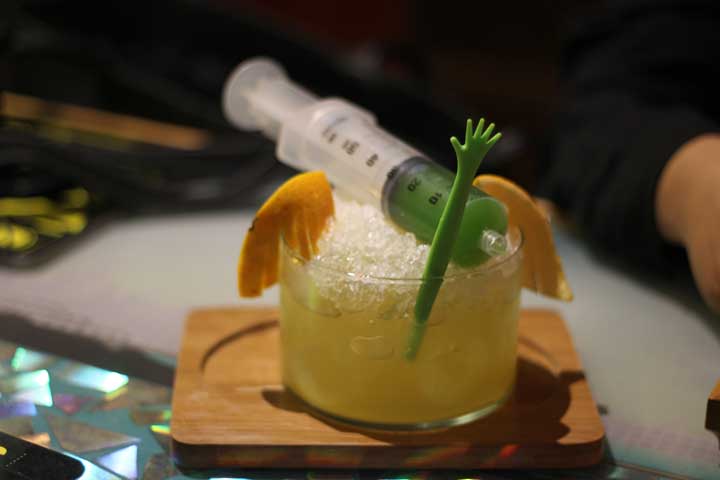 Don't let yourself get distracted by the hand poking out of the glass that give the cocktail a random quirk factor. Instead, focus on the sweet combination of peach schnapps, pineapple, coconut and orange juice that make a fun, well balanced tropical drink.
Love And Lock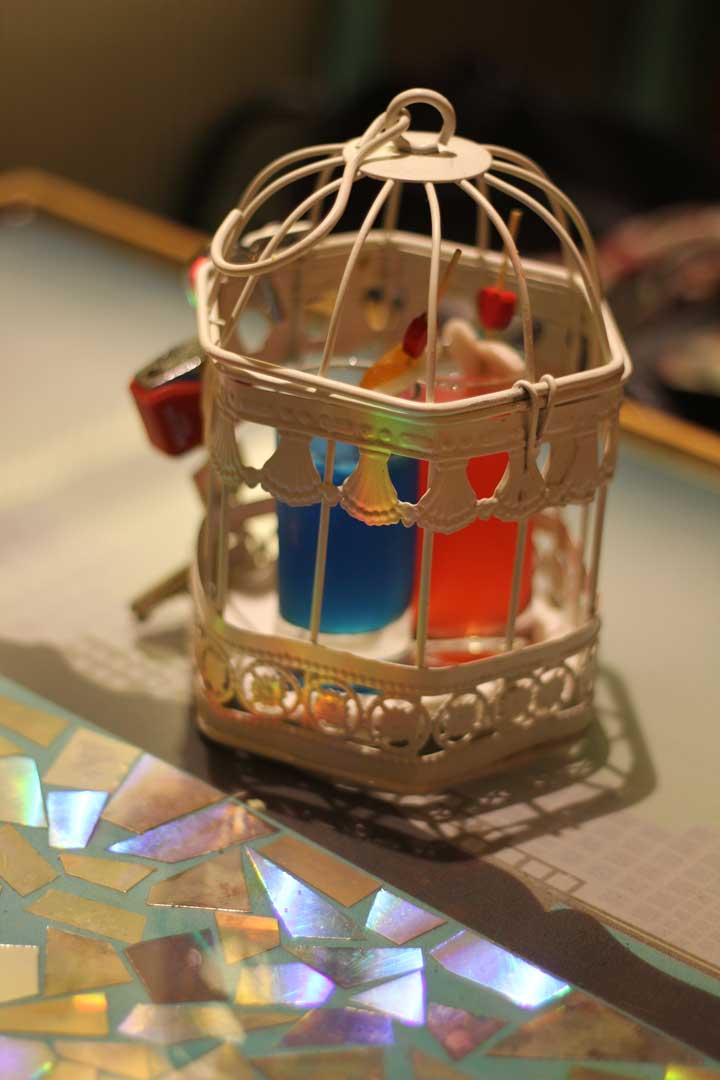 Paris' love locks come to Mumbai as a part of this unique drink. Two sweet shots arrived at our tables in a white washed bird cage along with a lock, a marker and two keys. Absent from the shots was any of the bitterness or sourness that one normally associates with a shot. Instead, they were refreshingly sweet. After downing them, we wrote wishes on the lock and locked it onto a wall in the restaurant solely devoted to that purpose.
Popsicles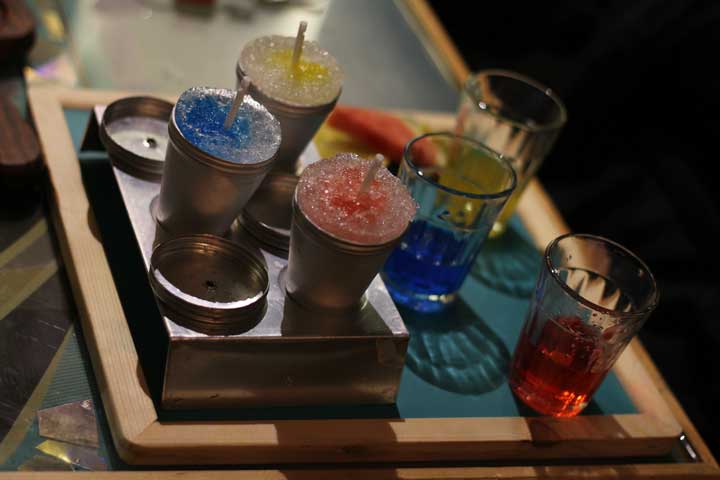 Watermelon, mango and lime flavoured popsicles come accompanied with flavoured alcoholic, which would be perfect once summer arrives and you want to battle the heat and get a little tipsy at the same time.
Even though all these drinks were quite potent, we managed to stay coherent through the evening thanks to the munchies we enjoyed with them. First, we started off with the Ragda Patties Shots, which were spicy, crunchy and satisfying.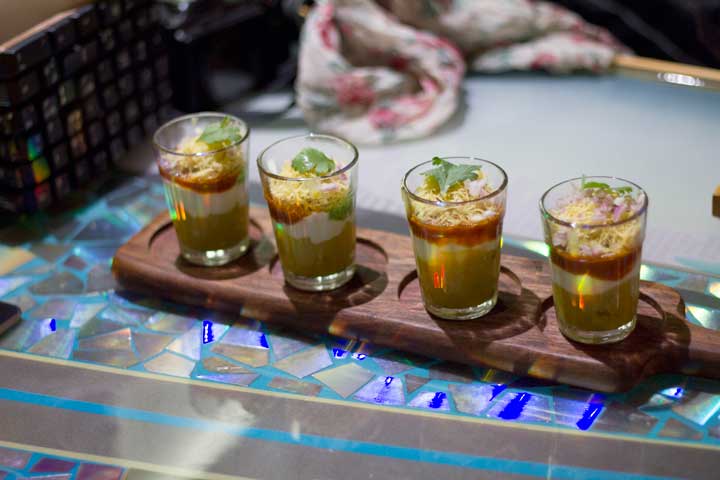 We followed them with a generously cheesy, smoky Nirvana pizza, topped with button mushrooms and zesty herbs. All through our drinks, we nursed a double portion of fries that miraculously remained crisp and crunchy throughout the evening.
While the food is indeed satisfying and tasty and the ambience quirky and fun, the main stars at The Bar Terminal that should command your attention are the drinks. Well executed, innovative and tasty, they'll bring a fresh (up-cycled) spin to your regular drinking nights with your buddies. When do you plan to stop by The Bar Terminal?
[schema type="organization" orgtype="Organization" name="The Bar Terminal" description="A quirky bar in South Mumbai. " street="Rajabahadur Mansion, Ambalal Doshi Marg, Kala Ghoda, Fort" city="Mumbai" state="Maharashtra" country="IN" phone="022 22100100″ ]