Seafood Delight every Friday Night at the JW Café in Mumbai!
Walk into the JW Café in Mumbai on a Friday night and the first thing you'll notice, bathed in a golden hued glory, is the King Alaskan crab. Then, your eyes will be drawn to the seafood spread that surrounds it; slivers of salmon spread on a bed of cold ice, mountains of lobsters jostle with each other and piles of mussels vie for attention, while a plethora of fresh, raw seafood is spread in front of a live cooking station.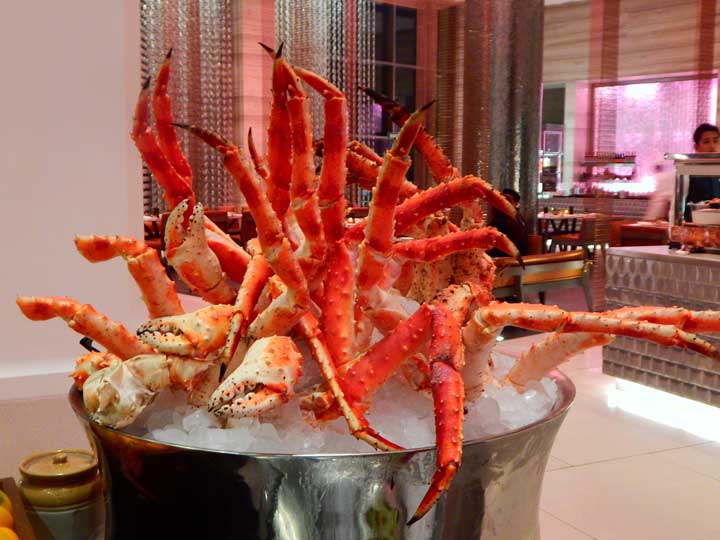 The extravaganza of seafood is because of JW Café's Seafood Friday, a night that celebrates seafood in all its wonderful shapes and forms. Being seafood lovers, we naturally chose to venture to the JW Café at Andheri on Friday night.
A Deal with Poseidon
We were greeted by Chef Danish Merchant, who explained that Seafood Friday is a nod to Mumbai's coastal location and therefore highlights seafood that is sourced locally. Indeed, it seemed that the chefs at the JW Café had conspired with the Poseidon of the Arabian Sea, as a bounty of fresh seafood including pomfret, basa, prawns, mussels and lobsters are on offer.
This bounty, Chef Merchant explained to us, can be cooked according to the customer's wishes; while the JW's international crowd requests fare that is seasoned with a little salt and pepper, the Indian corporate crowd prefers to have their seafood cooked with a range of sauces.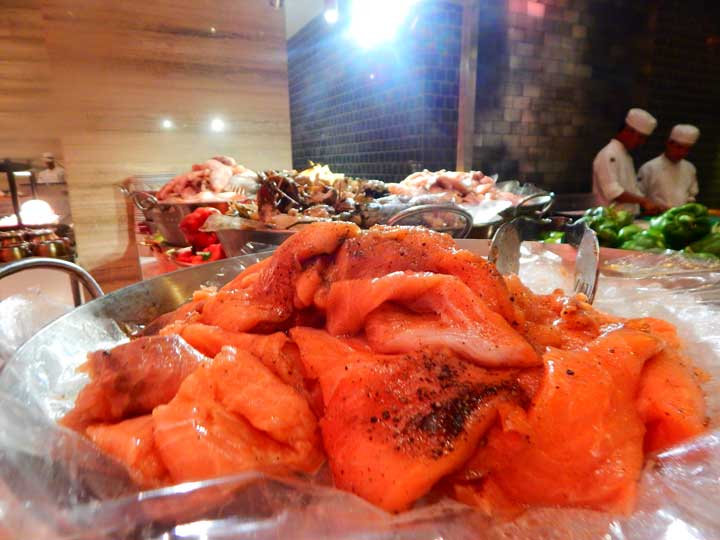 After feasting our eyes on the seafood spread, Chef Merchant took us on a tour of the rest of the fare that the JW Café had to offer, which includes – hold your breath for a banquet-hall sized list – a live chaat counter, a Thai buffet, an Indian buffet, a counter dedicated to sushi and sashimi, a Continental spread, a pasta station and a spread of cold cuts, breads and cheeses. And then, of course, there's the dessert selection which includes ice creams, waffles, cheesecakes, mousse and tarts. Now, let out your breath.
Understandably, after walking around the immense restaurant, we were hungry. So we headed back to our table, and proceeded to do what we do best; eat. We started off with a bowl of ginger mussel soup from the Thai counter, with perfectly seasoned mussels with a touch of zing. We proceeded to sample nearly every dish on offer, a worthy feat, if we do say so ourselves. Here were some of our favourites:
Platter of sushi and sashimi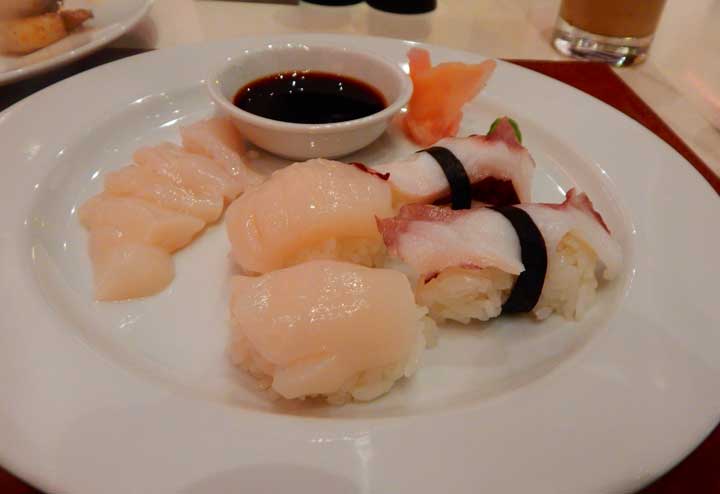 Japanese cuisine, with its emphasis on seafood, is at its best when the seafood is fresh. The platter that arrived at our table, which included tako (octopus) sushi and hotate (scallop) gukan maki were some of the freshest fare we've ever tasted, and the clean flavours had us rhapsodizing for a good half an hour.
Platter of Cold Seafood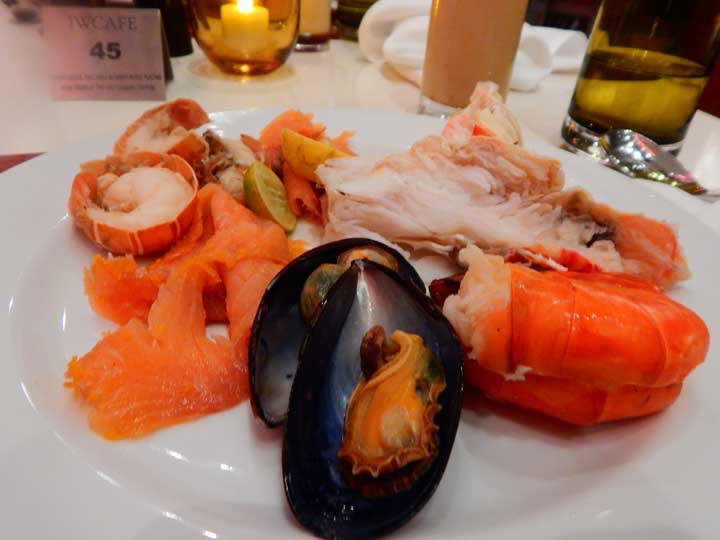 This selection of mussels, prawns, salmon and crab came from the cold seafood section of the buffet, of which the Alaskan King crab was the star. And, it was certainly the star of our meal too; the crabmeat was moist, juicy and tender. We also fell in love with the orange zest infused slivers of salmon and the simply seasoned scallops.
Chicken Shawarma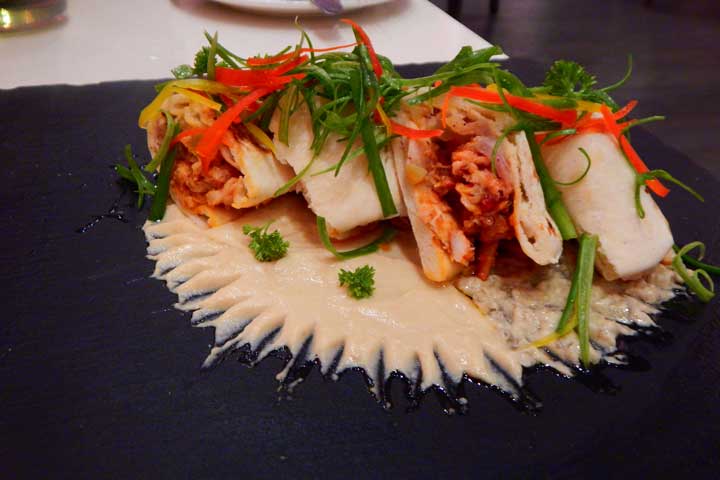 Friday night was all about the seafood, but when this beautifully plated shawarma arrived at our table, we just couldn't resist digging in. We're thankful to our stars that we did; the shawarma was by far the best one we've tasted in Mumbai with subtly spiced chicken nestled in between a medley of vegetables. Accompanying the shawarma was a whipped egg white and garlic sauce, which was, simply put, heaven in a bowl.
Hot Seafood Platter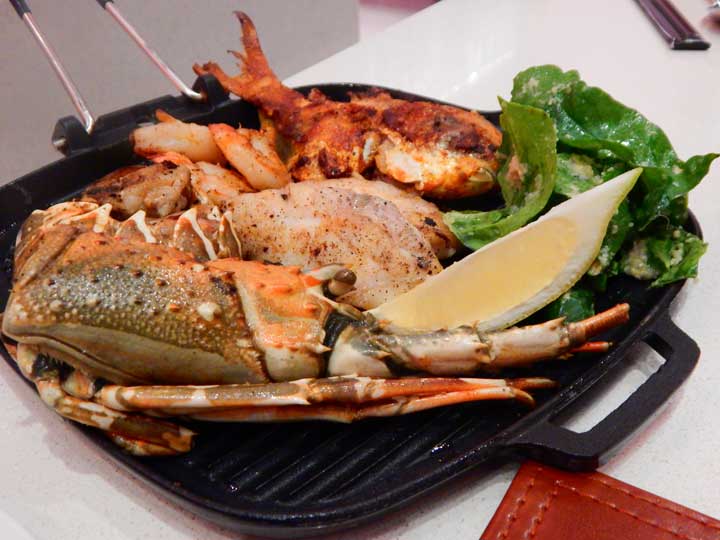 Turning our attention back to the seafood we sampled pomfret, basa, prawns and lobsters that were cooked at the live kitchen. All the items were lightly spiced, allowing their natural flavour to shine through. Accompanying the dish was a serving of bitter greens that balanced out the fishy flavours.
Waffles and Mississippi Mud Ice Cream
As we worked through our feast, we kept reminding ourselves to leave a sliver of space for dessert. So, after our meal we resolutely waddled over to the waffle counter and asked for a quarter of a waffle (we just had to taste it), along with a helping of chocolate sauce and whipped cream. Suffice to say, we're glad we kept some space, because the waffle was hot and soft, as any good waffle should be.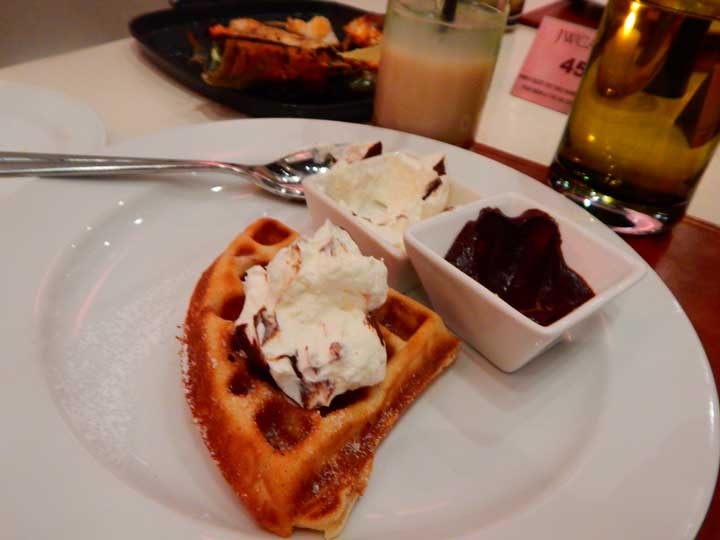 We then wandered over to the ice cream counter, which had a range of ice creams including the regular vanilla, kulfi and Mississippi mud. Being self-professed chocolate connoisseurs, we opted for the Mississippi mud ice cream, topped with chocolate sprinkles, chocolate rolls, Oreos and a brownie. Yes, we love chocolate. And, we loved the ice cream; it was rich, indulgent and the perfect end to the feast worthy of a king that we had just had.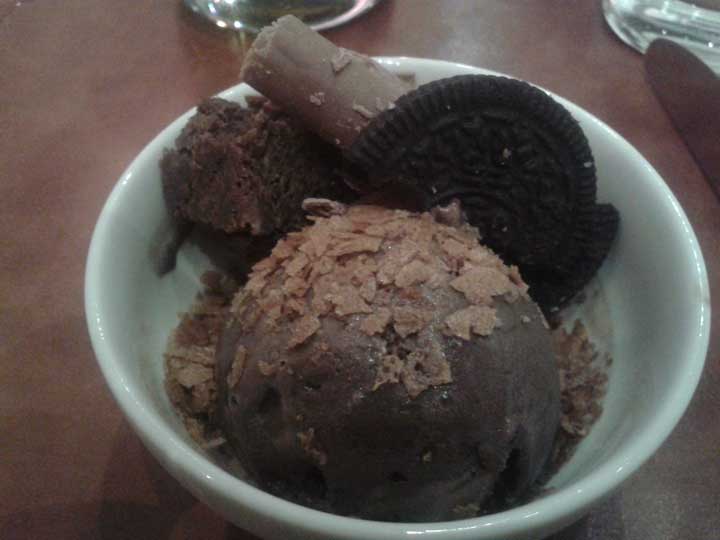 We'll bet reading about this spread has made you hungry. Truth be told, we're hungry too (nothing new there!). So, maybe this Friday night we'll see you at the JW Café? We look forward to it!
What we had:
Thai ginger mussel soup
Pineapple curry prawns
Thai jasmine rice
Assorted platter of sushi and sashimi
Assorted Platter of cold seafood
Assorted platter of hot seafood
Assorted platter of cold cuts
Chicken shawarma
Chocolate Mousse
Salted Caramel
Mississippi mud ice cream
Waffle with chocolate sauce and whipped cream

Head to the JW Marriott near Chhatrapati Shivaji International Airport, IA Project Rd, Andheri East in Mumbai to enjoy the Seafood Friday. Contact 022 2853 8888.